Visitor Center operation – Covid-19 protective measures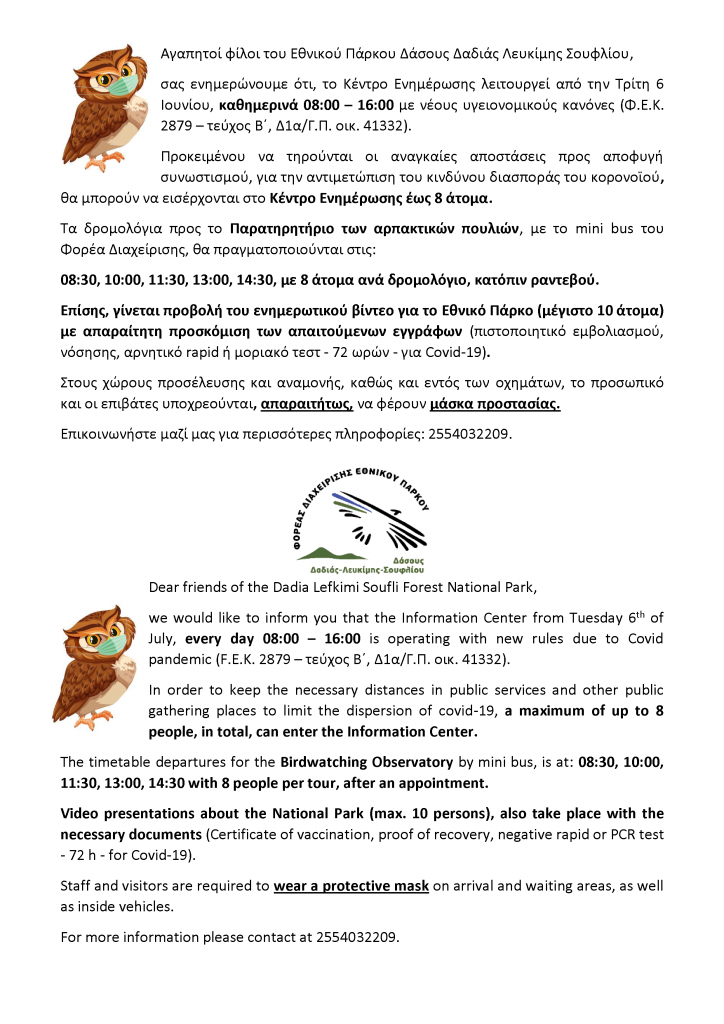 Dear friends of the Dadia – Lefkimi – Soufli Forest National Park,
Following the Governmental sanitary directions we apply the following protective measures due to COVID – 19 pandemic.
The Information Center opens every day from 8.00 a.m. till 16.00 p.m.
Visitors are able to enter the building of the Information Centre only by wearing protective mask and dispersing the appropriate antiseptic fluid on their hands before entering.
Inside the Information Center can enter no more than 8 visitors / per visit. Every person must keep a distance of 2 meters from each other. The same distance must be kept between the visitor and the Information Center stuff.
Mini bus leaves for the Observatory 5 times per day, at:
8.30 a.m., 10.00 a.m., 11.30 a.m., 13.00 p.m., 14.30 p.m.
By transferring maximum 8 passengers / per trip
Visitors must get an appointment in order to visit the Observatory by the mini bus before their arrival
Video presentations about the National Park are available to the visitors after displaying the appropriate documents:
Certificate of vaccination
Proof of recovery from COVID – 19 Coronavirus infection
Negative rapid or PCR test – 72 hours – for COVID – 19 Coronavirus infection
In the presentation room only 8 visitors / per presentation can watch the video wearing protective mask.
Visitors must wear protective mask
In all inner areas of the Information Center
In the Observatory
Inside the mini bus
For more information please contact at 0030 25540 32209